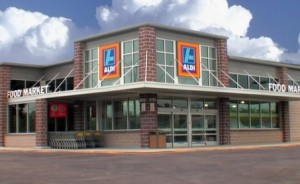 We have become faithful ALDI shoppers over the years.  I am a big fan of simple and ALDI fits that bill.  Not only is it super easy to save money there, but it's also much quicker because I don't have to comparison shop.  I like that.
You should know a few things if you choose to shop at ALDI for the first time:
ALDI does not accept coupons.  Their prices are low enough that coupons are not necessary to score a great deal.
In order to use a shopping cart, you will need a quarter.  Placing the quarter in the slot unlocks your cart and acts as a deposit so that you will return your cart.
Bring your own bags or find empty boxes throughout the store.  You will have to pay extra for shopping bags and who wants to do that?
Credit cards are not accepted.  You may use cash or debit card.
You will need to bag your own groceries when you are done.  My three year old is a big fan of this process.
If you ever have any problems you can take advantage of ALDI's DOUBLE GUARANTEE – If for any reason, you are not 100% satisfied with any product, they will replace the product

AND

refund your money. Simply return the item to your nearest store. (Non-Food Special Purchase items and alcohol not included.)
To find out more about ALDI and see if there are any locations near you, check out their web-site here.