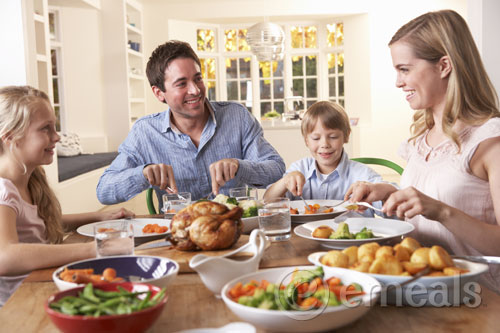 I have a confession to make.
I am not a fan of meal planning.
I wish it were not so.  You may get your thrills over planning your weekly meals down to the last calorie and cent.  I envy your passion, but I do not share it.
It's not that I haven't tried to enjoy meal planning.  I have a folder full of cute little meal planning calendars, creative ideas from magazines, and a whole lot of other fun stuff intended to motivate me to become a meal planning guru.
And yet, I still approach this task with dread.
That's why when my Mom introduced me to eMeals, I felt my heart skip a beat.  Imagine having a maid who plans your meals around weekly deals, creates your grocery list, and only charges you as low as $5 a month…and you are imagining eMeals.
I LOVE IT!!!!!!
We are using the ALDI plan for two people since our kids don't eat enough yet to use the bigger meal plans.  We spend approximately $50 a week for the ingredients for five meals.  That's $10 a meal! Not bad.  And considering the fact that we typically have enough leftovers for another meal or two, it's actually less than that! (Update: Since writing this post, our boys have become much bigger eaters, so we've graduated to the family plan!)

There are a variety of stores to choose from including Kroger, Wal-Mart, and Publix; and a nice selection of specialty meal plans, including Vegetarian, Low Fat, and Low Carb.
I have LOVED simply printing out my list each week, and heading to the store with little to no planning.  It saves me so much time, which is very important to me as a busy mom.
We have also really enjoyed their meals.  They are simple, yet delicious.  The perfect combination in my eyes.  Our favorite meal  so far has been the Open Face Ranch and Chicken BLT's.  mmmmmmm….
If this sounds interesting to you, simply go here to check it out.  If you choose to sign up, you will automatically receive the latest meal plan in your account and you can opt to receive it by email weekly.  Download it, print it out, and head to the store.  It's that easy!
OR if you have a Smartphone, find out more about the eMeals app here.  It's awesome!
And if you are wondering if this is a wise choice for frugal families, I will add that Dave Ramsey endorses the site.  Enough said.
Sign up now for a FREE 2 week trial to see if you'll love eMeals as much as I do!