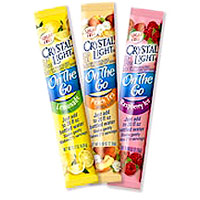 What?  More free stuff at Target?!
Oh yeah.
Look for Crystal Light on the Go 3-packs in the check-out lanes.  They are $.99 and with the following coupons, you should be able to get them for FREE:
$1/1 Crystal Light product
$2/2 Crystal Light product
In some cases, I have heard that people have had difficulty getting cashiers to lower the value of the coupon (in this case the coupons would need to be lowered to $.99 and $1.98.)  You may want to print out a copy of Target's coupon policy to take with you just in case.  You can find one here.
For the rest of the deals at Target this week, go here.
Thanks, Deal Seeking Mom!