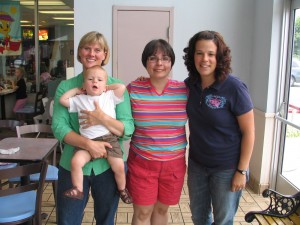 Have no fear.  I have not dropped off the face of the earth.  In fact, I'm greatly enjoying the face of the earth right now.  I'm currently in Central Park in NYC with my two sisters and my Mom.  Our intentions were to get here early enough to get tickets to Shakespeare in the Park.  Alas, we missed  our chance–even though I left my house at 3:30 a.m. Possibly the fact that Anne Hathaway plays a role and the tickets are free may have inspired the thousands of others who arrived before us.
The good news is that we happened upon a Brad Paisley concert in Central Park–gotta love NYC!  (Oh…and yes, I am a closet country music lover.  Please don't hate.)
And, if seeing Brad Paisley wasn't exciting enough,  did I mention I got to meet two of my bloggy buddies yesterday?  Sharon from The Good, True, and Beautiful, and Jenn from Frugal Upstate and I met up at McDonald's (and yes…that was plan B since it was raining outside…three frugal bloggers at McDonald's is not a common sight.)  We had a great time chatting and learning from each other–Brad's got nothing on you girls!  Thanks for proving to be as cool as I thought you were!
*UPDATE:  I'm home now. I have two words for you: "I'm pooped!"  It's been a great couple of days, but I'm heading to bed and will re-join the blogging world tomorrow after I've recovered.  Good night!