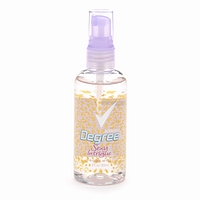 Last week, I was able to purchase Degree Body Mist at Target for only $.04.  I was pretty excited about that, until I discovered this deal at Saving with Shellie where you can actually make $1.96 by buying Degree deodorant and body mist!  Check it out:
Degree for Women Fine Fragrances Deodorant, $3.29
-Use $1.25/1 Degree coupon (RP 5/17) AND
-Use Buy Deodorant Get Body Mist Free coupon (RP 6/28) AND
-Use (2) $2/1 Target printable coupons HERE
Final Price = FREE Deodorant and Body Mist (+ $1.96 possible overage)
WOW!
Keep in mind that some Targets may not allow overage.  If not, you can ask if they will lower the value of the coupon, which is endorsed by Target's corporate coupon policy.  You may want to print out a copy of Target's coupon policy to take with you just in case.  You can find one here.
Check out the rest of this week's Target Deals here!