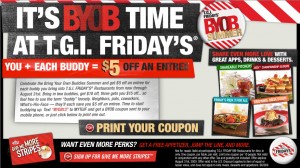 Update:  I have updated this post as I misunderstood the deal.  Sorry!
Here's a fun deal!  There is a coupon here for $5 off an entree at T.G.I.Friday's for each buddy you bring with you, up to 10 people! (Your entree is not included.)  Or you can simply text BYOB13 to MYTGIF and get a coupon sent to your mobile phone.  The offer expires August 31.
Also, if you sign up here for the Give Me More Stripes program, you will receive a coupon for a
free appetizer or dessert when you sign up, along with a few other fun perks!