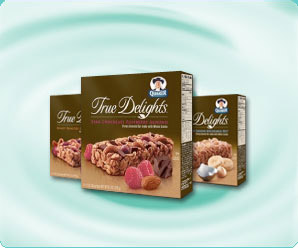 Have you joined FreeFly's yet?  If not, you are missing out on some great FREE samples of brand name products such as the Quaker Dark Chocolate Raspberry Almond Delights pictured above.  (Can I get an amen?!)
Other free samples currently available are:
Fiber One Honey Clusters Cereal, Fiber One Oats and Chocolate Bar, Plus $5 in coupons
Dunkin Donuts Coffee Sample
Go here to sign up now!
Note:  When I signed up, I had to click through a few pages of offers.  I jcust clicked no on each to get to what I really wanted!