Would you like to have these great deals delivered right to your inbox? Subscribe to our email digest. Or if you use a feed reader, subscribe to our RSS feed. Thanks for stopping by!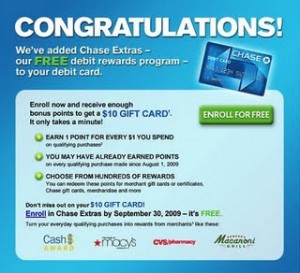 UPDATE: It appears that there is a $25 fee for joining Chase Extras.  My apologies for the confusion.  Thanks for the heads up, Jamie!
If you have a  Chase Debit Card, sign up here for Chase Extras and you'll automatically be given enough points to earn a $10 gift card.  You'll also begin earning rewards just for using the card!
This offer is expires September 30, 2009.
Thanks, Mummy Deals!