Yep.  What are the chances?  My last two CVS shopping trips have both turned out to be $.22.  I'm guessing I couldn't do that again if I tried.
Here's the promised pic of my booty.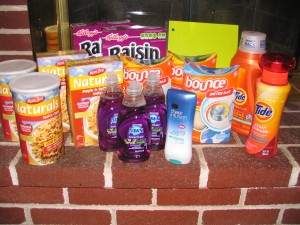 I think I did even better than my last twenty two cent trip.  I especially love it when I can score essentials like laundry detergent, dish detergent, and cereal!  Here's the breakdown:
Transaction #1:
3 Bounce Dryer Bars @ $4 ea.
1 Tide Stain Release @ $4
1 Tide Total Care @ $6
3 Dawn dish detergets @ $1 ea.
4 Mom's Best Naturals Oatmeal @ $1 ea.
Used $5/25 coupon here
Use one $2.50/1 and two $1.50/1 Bounce Dryer Bars coupons from Vocalpoint mailer
Use one $1.50/1 Tide Stain Release product coupon from mailer
Use one $1/1 Tide Laundry Detergent from RP 8/23/09
Used two $.50/1 Dawn detergent from Year of Savings booklet
Used four $.75/1 Mom's Best Oatmeal coupons here
Used $11.99 in ECBs from previous transactions
Total before coupons: $40.07
Total after coupons: $.16
Received $10 ECBs
Transaction #2:
2 Kellogg's Raisin Bran @ $2 ea.
1 Vaseline Sheer Infusion lotion @ $7.99
1 Caliber notebook @ $.99 (had a raincheck to receive $.99 ECBs)
Used $1.50/2 Raisin Bran printable here
Used $1.50/1 Vaseline printable here
Used $10 ECBs from previous transaction
Total before coupons: $19.82
Total after coupons: $.06
Received $8 ECBs
My new method of couponing worked like a charm.  I'll admit, it required a little bit more work up front.  But I've discovered that if I go to CVS without a well-organized plan, I end up spending much more than I intended and I end up completely stressed out as I'm trying to figure out which coupons go where and how many items I can get for the amount of ECBs I have without going over or under.  That always seems to be the time that my youngest starts screaming and my oldest starts running around the store.  (Please tell me I'm not the only one this happens to!)
I learned that I'd like to label some of the pages in my couponing book.  But, I'm excited about this new method!  Plus, I looked all stylish and stuff!
By the way, if you'd like to look as stylish as me, stay tuned for some sweet news later this week!