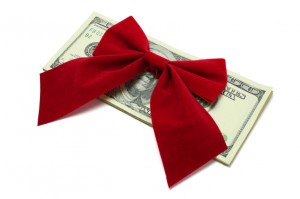 Hold on now– before you start calling me Scrooge, let's get one thing straight.  I LOVE Christmas! We celebrate big with all the trimmings and holiday parties and family gatherings and the chestnuts roasting on the open fire and what-not.
So, when I tell you that I am planning on spending less than $50 on Christmas this year, please know that I do NOT plan on being any less generous than years before.  I simply plan on being much savvier in my joy-to-the-world-holly-jolly-ness!
We have always set a budget in year's past and have been pretty faithful about sticking to it.  But one thing I have not done well is to plan ahead.  I have often found myself doing  the whole dreaded last minute shopping thing and the last minute wrapping thing–and let me tell you, that is not the best way to be strategic in  saving money.  (It also doesn't help with the holiday spirit either!)
I am working hard this year to think ahead and be prepared, in an effort to:
1) be careful with how we spend our money and
2) give ourselves room to take delight in the meaning of Christmas and the joy of that time of year.
Believe me.  It is not typical of me to be thinking about Christmas this early.  But then, I'm hoping this won't be just a 'typical' Christmas!  (Besides, I promise not to hang any decorations or watch "White Christmas" until after Thanksgiving!)
Over the next few weeks, I plan on sharing my money-saving strategy with you.  In doing so, I hope that I can be a resource for you as you prepare for this Christmas season and others to come.
But first, I'd love to hear from you!
I want to know:  How do YOU make the most of the Christmas season?  What steps do you take to fight off the craziness that so often makes up the month of December?  How do you plan on making time this year to enjoy and celebrate the meaning of Christmas?
Leave a comment and let us know.  That way, we can all be a resource for each other!