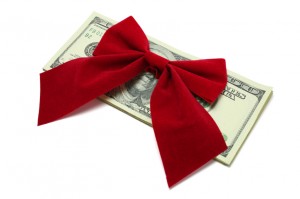 Have you all been holding your breath for my next installment of the "How I Plan to Spend Less than $50 on Christmas" series?  (Check out the rest of the series here.)
If you were, I apologize for taking so long in posting it.  You may breathe now.
Here is where I divulge my biggest secret in saving money this Christmas.  Two words:
There.  I said it.  The secret is out.  Are you happy?
It's my biggest weapon in my making-the-most-of-my-Christmas-budget arsenal.  I've been saving all year for this moment and the time has come to redeem those little suckers.
If you have not hopped on the Swag Bucks bandwagon, you really are missing out.  With a minimal amount of effort, you can begin earning prizes like gift cards, electronics, PayPal cash, and much more.  (Never heard of Swag Bucks?  Click here to learn more.)
My all-time favorite Swag Bucks prize is the $5 Amazon.com gift card for only 45 Swag Bucks.  In my opinion, that is the way to get the most bang for your buck.  There are so many other prizes to choose from as well.  Simply go here and click on prizes to check it out.
Obviously, it takes time to build up enough Swag Bucks to gain  enough points to cut your Christmas budget as I am planning on doing.  I have been saving all year and thanks to so many of you signing up under me, I've been able to save up enough to cut our Christmas budget drastically.  I plan on buying most of our gifts on Amazon.  (Can't think of much we couldn't find there!)
Here are my favorite tips for getting the most out of joining Swag Bucks:
REFER PEOPLE! Use your  referral link to get people to sign up under you and you will get up to 100 matching Swag Bucks as they earn them.  Here's a tip: Have your spouse sign up under you!  Then as he or she earns Swag Bucks, you will too!  What a great way to double your money!
If you have not downloaded the new Swag Bucks toolbar yet, you must! They have been extra generous lately with handing out free codes and the new toolbar alerts you when they do so.  The code is usually only good for a few hours, so having the toolbar gives you an edge in making sure you don't miss it.
Do lots of searching on Fridays. Fridays are  Mega Swag Bucks Day, meaning that Swag Bucks are often awarded in 10, 20, 50, and 100 increments.  Woo hoo!  You better believe I'd do the happy dance if I snagged a 100-spot!  They are handed out randomly and there is no guarantee, but do a few searches today and see what happens!
Here's a heads up on redeeming Swag Bucks.  You are now only allowed to redeem up to 5 like prizes per month.  Since the $5 Amazon gift card is a special deal, I recommend redeeming them as you go.  You'll also want to plan ahead since it takes a couple of weeks for the prizes to post to your account.
So there you have it, folks.  My ultra-secret method of  saving money at Christmas has been spilled.  If you are new to Swag Bucks, why not start now to save them for next Christmas?  With a little bit of time and effort, you will definitely feel the savings at Christmas next year.
Lest you think this saving money at Christmas series is done, have no fear.  I have even more tricks up my sleeve, so stay tuned!