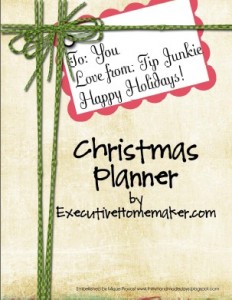 Oooooh…I love this! The Executive Homemaker has a FREE Christmas planner that you can download and print.  It has everything that you need to make sure your Christmas is planned well AND it's absolutely adorable.  Plus you can re-use it year after year.
Included in the planner:
Party Planner – Organize December birthdays, Family Picture, Parties, and gifts to have on hand.
Family Gift Planner – Keep track of gift ideas for each person in your family year round.
Extended Family Planner – This worksheet will help you make gift giving to your extended family easy!
Friend Gift Planner – Keep track of the smaller details like: Goody plates, Teacher gifts, and Emergency gifts.
Memory Planner – Quickly keep record of the wonderful memories you had with your family this holiday season.
Click here to download yours, print it out, pop it into a binder, sit back with a cup of coffee and get planning!
Thanks to Kingdom First Mom for the heads up on this!