Would you like to have these great deals delivered right to your inbox? Subscribe to our email digest. Or if you use a feed reader, subscribe to our RSS feed. Thanks for stopping by!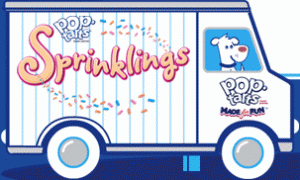 A while back I signed up for Kellogg's Pop-Tarts Sprinklings.  I didn't know much about it, so I waited to post anything about it.
Yesterday when I went to my mail box (one of my favorite activities with all of these freebies lately), what should I find but a cute little package that included a coupon for a FREE box of Blueberry Muffin Pop-Tarts.  (A favorite stocking stuffer around these parts!)  It also included a coupon for $.55/1 Blueberry Muffin Pop-Tarts and a very cute booklet of family fun ideas.
Click here to sign up.  They promise "a bunch of fun for you and your family throughout the year, including a smattering of samples and a variety of values".  Sounds good to me!