Would you like to have these great deals delivered right to your inbox? Subscribe to our email digest. Or if you use a feed reader, subscribe to our RSS feed. Thanks for stopping by!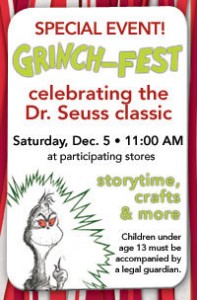 Oh how I love this movie.  In fact, we just watched it last night.  With milk and cookies, of course.
Stop by your local Borders on Saturday, December 5 at 11 a.m. for a fun kids' event to celebrate the Dr. Seuss classic "How the Grinch Stole Christmas!"
* Storytime with the book
* Crafts & Coloring
* Grinch Bingo Game
* Cat in the Hat & Grinch Giveaway & Raffle
Click here to find a Borders store near you.  More details here.

Note:  Event details vary by store.  Contact your local store for details.