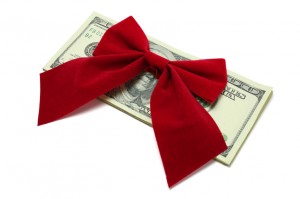 One of my goals this year is to help us work together on saving 'free money'.  As you can tell by the Cha-Ching! Christmas Club, free money is one of my favorite ways to stretch our income. I've been finding ways to bring in some extra cash through rewards programs for years.
There are some very important concepts that we all need to be on the same page about before we embark on this journey.
As you sign up for various programs, your inbox will begin receiving several new e-mails a day.  Some of the rewards programs like MyPoints and Inbox Dollars send out as many as 5-7 e-mails a day.  I don't mind receiving these since I earn rewards by clicking through the e-mail.  If you dislike receiving that many e-mails, you may want to consider creating a new e-mail address that is strictly set up for these rewards programs.
None of these programs will get you rich.  (If so, you better believe I would be sharing the scoop!)  Instead as you take part in a variety of rewards programs, you will begin to see free money coming in through a variety of sources.  It may only equal a few dollars a week.  But over time that few dollars will grow and you will discover that a few minutes of your time each day could equal hundreds of dollars in the long run.
It is up to you to determine how much time you would like to invest in these free money opportunities.  If you opt to sign up for surveys, then be aware that some of them may take 20 minutes or more.  If time is tight, I highly recommend  programs like Swag Bucks that lets you earn prizes for searching the web–something that you would normally do anyway.
If you have not signed up for Roboform yet, it might just become your new best friend.  It is a web form filler software that will automatically fill in all those sign up forms with just the click of a button.  It has been a fantastic time saver for me.  Click here to learn more about it.  Download it for free here.  (Roboform Pro costs money, so stick with the free stuff!)
As always, let me know if you have any further questions.  I think rewards programs are a really fun way to bring in extra money.  I look forward to stre-e-e-e-tching our hard earned dollars together!