Would you like to have these great deals delivered right to your inbox? Subscribe to our email digest. Or if you use a feed reader, subscribe to our RSS feed. Thanks for stopping by!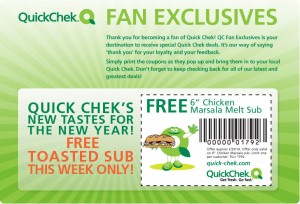 If you live near a Quick Chek (or plan to be driving through NY or NJ sometime soon!), then you'll definitely want to take advantage of the offers on the Quick Check Facebook page.
Right now you can become a fan and print a coupon for a FREE 6″ Chicken Marsala Melt Sub.  Then keep checking back each week for new offers.
Click here to find a location near you.