Would you like to have these great deals delivered right to your inbox? Subscribe to our email digest. Or if you use a feed reader, subscribe to our RSS feed. Thanks for stopping by!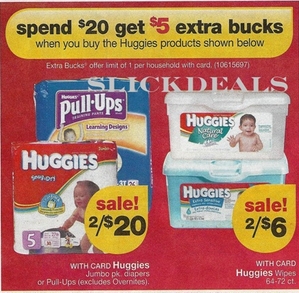 We are getting a little low on diapers around here, so I've been keeping my eye out for good deals on those great Huggies coupons.  Here's one at CVS the week of 1/31/10.
Get $5 ECBs when you buy $20 worth of Huggies Products
Huggies diapers and Pull-ups (Jumbo pk.), 2/$20
Huggies wipes, 2/$6
There are also January Upromise e-Coupons that expire on Jan. 31.   Here is a deal idea if you go on 1/31:
Buy (1) Huggies Little Movers Jumbo pk. @ $10
Buy (1) Huggies Snug & Dry Jumbo pk. @ $10
Use (2) $2/1 Huggies printables
Activate $2/1 Huggies Little Mover Upromise e-Coupon AND
$1/1 Huggies Snug & Dry Upromise e-Coupon
Pay $16.00
Get $5 ECBs
Get $3 added to your Upromise account
As low as $4 each after coupons, ECBs, and Upromise deposit!
There are also Huggies coupons in SS 1/17.
Note: There is also a Upromise e-coupon for $3.00 for Huggies Pure & Natural diapers, but my CVS does not carry these.  Does yours?
Thanks, Slick Deals!