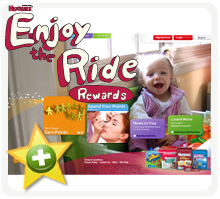 I have added new codes to my Huggies Rewards Codes database (highlighted in red)!   Thanks to Freebies 4 Mom for posting them.  They are worth 16 points, which could allow you to play Instant Win games or enter some Sweeps at Enjoy The Ride Rewards.  It looks like there is a new video and a new poll to earn you more points as well.
If you'd like, you can begin saving up your points toward items in their Rewards catalog, which contains Huggies items and fun stuff for the kiddos.  Since I've won the Instant Win twice three times (!) now, I think I may be tempted to use mine up there!
UPDATE:  I just won a $25 Barnes & Noble gift card in the Instant Win section!!!  Squeeee!
If you find any codes that have expired in the database, can you let me know?  Thanks!
Not familiar with Huggies Enjoy The Ride Rewards?  Read more here.