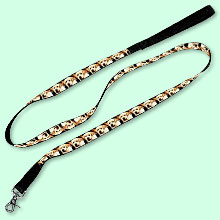 Oh my goodness–I'm thinking about going out and getting a dog just so I can get in on this deal!
Right now, new members can get a FREE dog leash plus 20 free prints from Snapfish
.  You need to click here to create an account and then click on your account to redeem the credit toward the free leash.
But it gets even better.  Through 2/19, use code PRESDAY at check-out to get FREE SHIPPING too!  Yep–a $25.99 value for FREE!!!
Thanks so much for spotting this, Mercedes!
Heads up: I've read reports that people are having difficulty signing up for this offer when using PayPal because of the $0 amount.  Let me know if you have problems.  Looks like credit cards are working fine though.