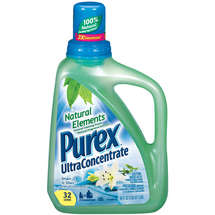 I was glad to find two new great deals at Walgreens this week since the Sudafed deal turned out not to be as good as I thought.
There is an unadvertised Buy One Get One sale on Purex this week at Walgreens.  You may be able to get two FREE with this deal:
Buy 2 Purex–on sale Buy One, Get One free (2 for $5.99)
Use the B1G1 Free coupon from RP 2/21
Get both free after the coupon and sale!
Some stores will allow this and others won't.  If you are not allowed to use a B1G1 coupon on a B1G1 sale, then you can also opt to purchase three and get all three of them for $5.99 (one free with coupon and the other free with the sale).
Heads up: You may want to call ahead to be sure your store has these in stock.  I just called and was told the shelves were empty.  You can also ask when the next truck will come in.
Here's how to score Dentyne Gum for only $.19:
Dentyne 12 piece, $0.69 (with in-ad coupon)
Use $1/2 coupon from SS 02/28
$0.19 each after coupons!
Thanks, Money Saving Mom!

See the rest of the deals at Walgreens this week.