Would you like to have these great deals delivered right to your inbox? Subscribe to our email digest. Or if you use a feed reader, subscribe to our RSS feed. Thanks for stopping by!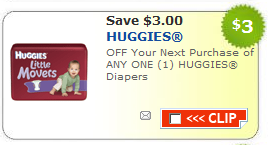 Have you printed your $3/1 Huggies coupon yet?  Don't wait because it will go fast!
Mercedes put together an awesome list of places to use this coupon now or in the upcoming weeks.  Check it out:
Target right now:
Huggies jumbo pack of diapers, $8.99
Use $3/1 Huggies diaper coupon (look under household)
Use $1.50/1 Huggies diaper Target store coupon (look under baby)
$4.49 each after coupons!
Walgreens starting on 3/21 through 3/27:
Buy 3 Huggies at $8.99
Get $5 RR wyb 3
Use (3) $3/1 Any Huggies Diaper Coupon PLUS
Use $1/1 Coupon Walgreens Childrens Activity Book (will deduct $3)
Pay $14.97 out of pocket and get back $5 RR (Thanks Clipping with Carie!)
$3.33 each after coupons and RRs!
Rite Aid starting on 3/21 through 3/27:
Buy 2 Huggies, $17.98
Buy 2 Huggies Wipes, $5
Use $5/$20 Rite Aid
Use two $3 Huggies diaper coupons
Use $2 Huggies RA video values
Use two $0.75/1 Huggies Wipes or $0.50/1 Huggies wipes coupon from SS 3/21
Pay $8.48 our of pocket and get $1 Huggies Single check rebate and $1/2 Huggies Wipes Single check rebate=$6.48 (Thanks Link to Family Savings!)
$1.62 each after coupons and SCR!!
Kmart right now:
Buy two packs of huggies diapers $9.99 each
Buy one bar of j&j Buddies soap $1.02
Use $10/20 Kmart coupon (Heads up!  I wasn't allowed to use this coupon.)
Use two $3/1 huggies diaper coupons
Use $1/1 any J&J baby product coupon or from RP 3/14
Pay $4 plus tax out of pocket and get back $3 back in your Kmart rewards card!
NOTE:  I'm not positive that this deal scenario will work because the wording on the coupon makes it sound like you can't use the $10/$20 coupon with other coupons.  But I wanted to post it just in case!
Thanks, Common Sense with Money!