Would you like to have these great deals delivered right to your inbox? Subscribe to our email digest. Or if you use a feed reader, subscribe to our RSS feed. Thanks for stopping by!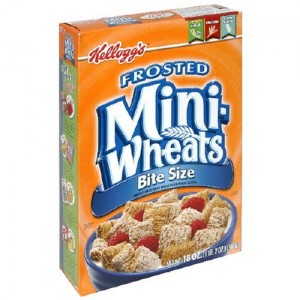 I was at Target today and found a SWEET deal on Kellogg's Frosted Mini Wheats (my favorite!) that somehow I neglected to share with you this week. Select Kellogg's products are 4/$10 and earn a $5 Target gift card at checkout when you buy four.
Frosted Mini Wheats (18 oz),  $2.50/ea
$1.50/2 Frosted Mini Wheats printable coupon or here
$1/2 Kellogg's cereal coupon from RP 3/7
As low as $.50 each after coupon and Target Gift Card!
Hopefully you can get to Target before the end of the day tomorrow (3/20) to snag this deal. I'm heading back tonight to get another four boxes!

See the rest of this week's deals at Target here.