Would you like to have these great deals delivered right to your inbox? Subscribe to our email digest. Or if you use a feed reader, subscribe to our RSS feed. Thanks for stopping by!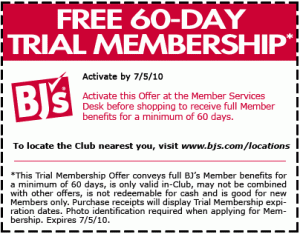 If you don't have a BJ's membership, you can print this FREE 60-day shopping pass and take it to your local BJ's Wholesale Club to redeem it.
I am considering doing this because we have a BJ's nearby for the first time.  Unlike other wholesale clubs, they accept manufacturer's coupons.  From what I understand, they will even accept multiple coupons for items that are packaged together.
Click here to find a BJ's near you.
Do you have a BJ's membership?  What has your experience been like?
Thanks, Moms Need to Know!