Would you like to have these great deals delivered right to your inbox? Subscribe to our email digest. Or if you use a feed reader, subscribe to our RSS feed. Thanks for stopping by!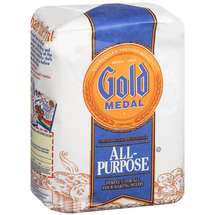 If you are like me and still haven't used that $.75/1 Gold Medal flour coupon yet (no longer available), you may want to take it with you on your next trip to Walmart.  I was just there and found a 5 lb. bag for only $1.50, making it only $.75 after coupon!
I am not sure if this is a rollback price or the regular price.  It looked like the regular price at my store.
Thanks goes to Tracey for the heads up on this!
I found a few other deals while I was there:
Suave 24-hr. protection deodorant, $1.72
$3/2 printable
$.22 each after coupon!
Renu Contact solution (travel size), $1.47
$2/1 printable
$1/1 printable
As low as FREE after coupon!
Ortega Taco Seasoning Packets, $.68
$1/2 printable
$.18 after coupon!