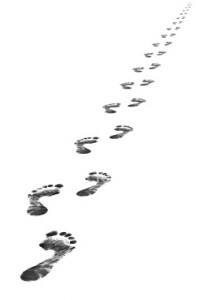 " I wonder what sort of a tale we've fallen into?"
-Sam "The Fellowship of the Ring"
Two years ago today, my husband got laid off.
It came as no surprise, really.  The small college where he worked was struggling financially.
We entered into this phase with a confidence and a peace that God had plans for us.
About one month into it, the novelty began to fade.
About six months in, the ups and downs of the job hunt and the uncertainty of temporary jobs were beginning to take a toll.  (Although I still feel a sense of gratitude for the temporary jobs that Wes worked.  They provided a paycheck in uncertain times.)
About one year in, I was really struggling.  Bitterness was beginning to set in.  It had been an awful year full of pain and heartache beyond the job hunt.  I have record of my hurt and anger in journals during that time. In fact, I just found this entry that I wrote a year ago:
"I believe it was a year ago TODAY that Wes was laid off.  Two days ago, we found out that North Carolina was a NO.
Sigh…what a journey.
We started the journey with great confidence.  It's definitely starting to waver.  What do you have in store, God?  We just can't put our finger on it.
Is it Philly?"
If you've been around here for long, you know the answer to that question.  The answer was YES.  It WAS Philly! (Ok, north of Philly if you want to be technical.)  It took another five months before we actually made the move, but the wheels had begun to turn.
This is why I want to celebrate the two year anniversary of my husband's lay-off today.
Not because it was fun.  (A year and a half of uncertain income is a looong time…)
Not because it was easy. (I am just now getting ready to pay off a large, ugly bill from my husband's hospital visit ONE WEEK before he finally was insured again.)
Not because I would like to go back and do it all over again. (But honestly, you never know in these times…)
I want to celebrate because it was the beginning of a journey. Were it not for his lay-off, we would not have been stretched and pushed to where we are today, financially, vocationally, spiritually…  And in fact, were it not for his lay-off, I would not blogging here today.
I actually wrote the quote above from Sam in The Fellowship of the Ring in my journal about six months before Wes's lay-off. Little did I know how my tale was about to change.
I sure would like the ability to see the end of our path and know that all will end well.  I'd love to picture years of financial stability with no more battles with unemployment and paying for groceries with WIC checks. (In fact, I'd love to know that we will have the resources we need in order to help those who are paying for their groceries with WIC checks.) And sure–I'll take the white picket fence too.
But life is a journey, isn't it?  Who knows what a day may bring forth.
Because of the journey that began two years ago today, I have confidence that God will continue to show us how to take the next step.
And that's why I'm celebrating today.