Would you like to have these great deals delivered right to your inbox? Subscribe to our email digest. Or if you use a feed reader, subscribe to our RSS feed. Thanks for stopping by!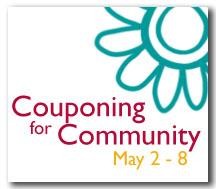 How's your stockpile doing?  If it's like mine, it's growing quite nicely.  I think it's time to give some away.
I am inviting you to join me in giving a portion of your stockpile away during the week of May 2-8.
In fact, I can't tell you how excited I am to share this next bit of news.
Ever since that whole Nightline thing went down, I have become more convinced than ever of one thing: we as couponers have the abilities and resources to impact our communities in a BIG way.
And then it hit me–what if we made a united effort to give? The impact could be amazing.
So I've been busy, busy, busy behind the scenes inviting my fellow coupon bloggers to join me in asking our readers to GIVE during the week of May 2-8.
And I've been thrilled with their response.  I've created a Facebook Event page where you can check out the other blogs participating in the event.  Check it out! They just keep coming.
NOTE:  If YOU are a blogger that would like to participate in this event, let me know!
Here is where YOU all come in:
Second, start thinking now about what you would like to give and where. Next week is the Stamp Out Hunger Food Drive as well, so giving will be as easy as putting a bag of non-perishable items out by your mailbox on Saturday, May 8.  If you are like me and have a lot of health and beauty items to give away, then you may want to plan on giving to a friend in need or to a local homeless shelter.
Third, TELL US ALL ABOUT IT!! What will make this event fun is seeing how much everyone has given!  Upload pictures on the Facebook page and share in the comments what you have been able to give.  Yep–it's ok to brag!
Finally, on Saturday May 8, I will have a Mr. Linky up where bloggers can leave links to posts or you can leave a comment sharing how you were able to give. We all can celebrate together!
WHO'S IN?!
A very special thanks goes to Sharon from Good, True, and Beautiful for designing the 'Couponing for Community' button.  Thanks, Sharon!