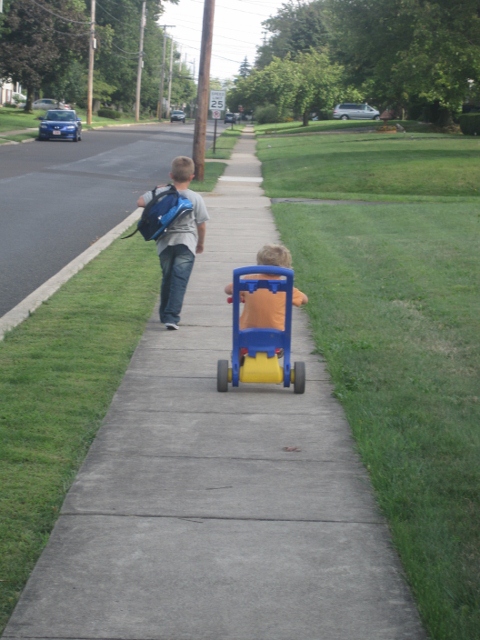 Heading Home from the Bus Stop
Yesterday was a big day in our house.  It was the first day of first grade for my oldest son, Griffin.  Since Kindergarten is only half day where we live, it seemed like a pretty big milestone for us.
My sister has always had the tradition of baking a fresh, gooey batch of Pumpkin Chip Cookies to celebrate the first day of school for her four growing children.  So I decided to steal borrow the idea for myself and begin a new tradition in our house.
My Mom tells the story that this was the only recipe that she knew how to make when she got married.  And really…if there was only one recipe I could bake, I think I might just choose this one.
I've shared the recipe with you before, but here's a re-cap in case you'd like to steal borrow it.  (Thanks to my sister for writing it up for us!)
Pumpkin Chip Cookies
1 cup pumpkin                         1 tsp. cinnamon
1 beaten egg                             1 tsp. baking soda
1/2 cup vegetable oil              1 tsp. milk
1 cup sugar                              1 tsp. vanilla
2 cups flour                              1 cup chocolate chips
2 tsp. baking powder             1/2 cup crushed walnuts
1/2 tsp. salt
Combine pumpkin, egg, oil and sugar; beat well.
Sift flour with baking powder, salt and cinnamon; stir into pumpkin mixture.
Mix soda and milk together; add to mixture.
Add vanilla, chocolate bits and walnuts.
Drop from teaspoons onto greased cookie sheet.
Bake at 350 degrees for 10-15 minutes. (I like mine a little gooey, but you might prefer them a little more well done.)
Warning: You may or may not be able to eat an entire plate of these cookies in one sitting because you may or may not convince yourself that they are healthy due to the addition of pumpkin, which is a vegetable afterall.  (Or is it a fruit?)  Either way, it's gotta be healthy, right?
Just sayin'…