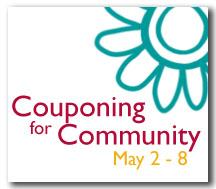 Throughout the week, I'd like to highlight what's going on in the Couponing for Community world.
Julia at the Frugal Find has posed a $5 challenge–with a $20 PRIZE!  Click here for more details.
If you are a blogger, I also want  to invite you to leave a link with your Couponing for Community posts.  I've been amazed at the response.  We now have over 65 bloggers involved and I'd love to give my readers a chance to check them out!
So if you are a blogger, leave a link to your Couponing for Community post.  And remember that I will have a post up on Saturday for everyone to share all about how you were able to give!