Would you like to have these great deals delivered right to your inbox? Subscribe to our email digest. Or if you use a feed reader, subscribe to our RSS feed. Thanks for stopping by!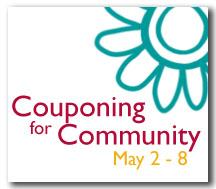 The couponing community continues to blow me away with their support of this crazy idea I had called Couponing for Community.  I'm not gonna lie.  I.am.loving.it!
Here are a few highlights of the day:
Amy at Saving With Amy has put together a hot list of FREE to cheap items that you can still gather this week at grocery store and drug stores.  If you don't have a stockpile, it's an easy way to begin!
Tomorrow I plan on beginning to put together my donations.  I can't wait!  (Oh…and I can't wait to see yours too!)
Let's flex those couponing muscles, y'all!