Would you like to have these great deals delivered right to your inbox? Subscribe to our email digest. Or if you use a feed reader, subscribe to our RSS feed. Thanks for stopping by!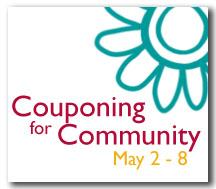 I just wanted to take a minute and say a final THANK YOU for all who participating in Couponing for Community last week.  It was so much more than I ever hoped!
I did the best that I could in tallying up the number of items that were donated nationwide using the pictures that were posted on our Facebook page.
Are you ready?
As a group of bloggers and readers, we donated over 3155 items to food pantries, homeless shelters, abused women's shelters, animal rescue shelters, friends in need, and to the Stamp Out Hunger drive.
And that isn't counting the $1092.44 worth of items that were collected by Giselle and Lauren from The Saving Addiction!  (Check out their haul here!)

That is a lot of pasta, cereal, deodorant, shampoo, soup, toothbrushes, soap, rice, snacks, and the list goes on, friends.
THANK YOU!
In fact, to give us a better sense of what we accomplished as a couponing community, I made this:
(Note: I was unable to use all of the pictures posted. I apologize if yours isn't here.  Everyone's donation made a difference!)