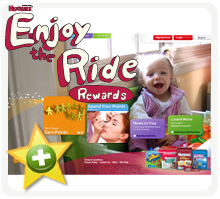 I have added 2 new codes to my Huggies Rewards Codes database (highlighted in red) worth 6 points.   You can use it to play Instant Win games or enter some Sweeps at Enjoy The Ride Rewards.  You can also opt to save your points toward items in their rewards catalog.
I also noticed that there is a new poll (1 pt.) and a new video (2 pts.).  Click on 'Earn points' to add a few more to your account!
If you notice any codes that have expired, could you let me know?  I do my best to keep the list updated and appreciate any help I can get!  Thanks!
Not familiar with Huggies Enjoy The Ride Rewards?  Read more here.