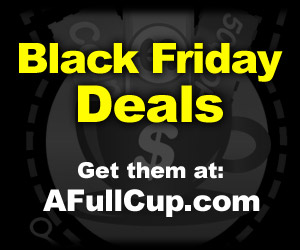 I shared a little confession yesterday on Facebook. I have never really been Black Friday shopping.  (Other than CVS, of course!)
Are you shocked?
I have three basic reasons:
I really don't like shopping.
I'm confident that I can find great deals in other ways online.  (Cyber Monday, please!)
Refer back to number 1.
But if you are a die hard Black Friday shopper, don't forget to check out A Full Cup's Black Friday Forum.  All of the deals are listed with lots of discussion to help you make the most of your Black Friday shopping.
If you are a Black Friday Pro, feel free to leave a comment with your best tips on the Cha-Ching on a Shoestring Facebook page!  Then be sure to come back on Friday and celebrate your great deals!