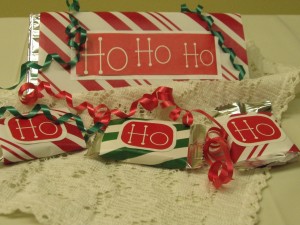 The Dollar Store Diva is back with some creative ideas on how to use wrapping paper to most those sweet treats even sweeter!
***

In my super-sleuthing, I always stop by the wrapping paper section, especially at Christmas time. Here I have to exercise self-control, because the selection is almost mouthwatering.
Speaking of mouthwatering, I have had fun this year taking the outer wrappers off large chocolate bars (those wrapped in silver foil) and replacing it with some of the wrapping paper I simply couldn't resist.
This particular paper was purchased at Dollar Bazaar, and the smaller candy bars are York Mint Patties.
I will be back soon to show off more wrapping paper creations!