I am so happy to share that the Dollar Store Diva has returned!  For those of you who missed her Christmas posts, the Dollar Store Diva happens to be my Mom, who has a special power.  She has the ability to transform Dollar Store finds into super fun gifts that would brighten anyone's day!
I asked her if she would share a few ideas on making Valentine's special using her Dollar Store super sleuth skills.  Check out these fun ways to brighten someone's Valentine's Day through the mail!
***

Love makes the world go round!
For someone who loves 1) holidays 2) blessing one's friends and family, and 3) inexpensive creative touches, Valentine's Day shouts DOLLAR STORE! My project table has been overflowing with bits of red ribbon, pink paper, and heart patterns.  Below you will see three projects I have completed to date–with more to come!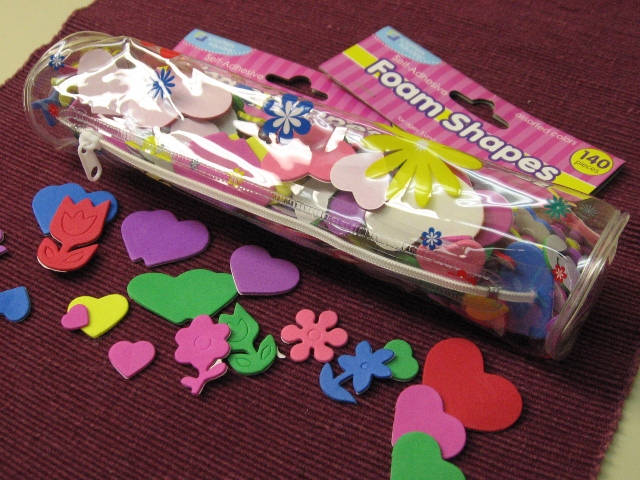 –I have always been fascinated with mailing things creatively so that even if the gift is small, the smile will be big.  The first item I mailed was to my granddaughter. Karis loves to create, and she enjoys the little foam shapes to decorate her artistic endeavors. I found a clear plastic pencil case with pastel hearts on it, I filled it with Valentine-Day appropriate foam shapes (all from, yes, the Dollar Store), zipped the zipper, wrote her address on a white piece of paper, covered it with strapping tape and attached it on the end where the zipper opened so it wouldn't come open during its journey to her house. It cost $1.39 to mail.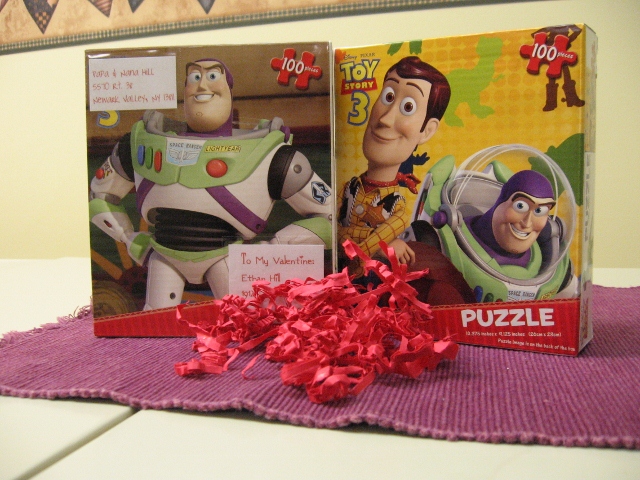 –For my grandson, I bought a Toy Story 3 puzzle (he's quite proud that he can put together puzzles with 100 pieces), made an address label that said "To My Valentine", attached that in the bottom corner and attached our return address in the upper left-hand corner, trying not to cover too much of the picture. I used a bit more strapping tape on the ends of the box just to be sure it didn't open en route (the mail carrier might not be so happy with the 100 pieces.) It cost $1.73 to mail.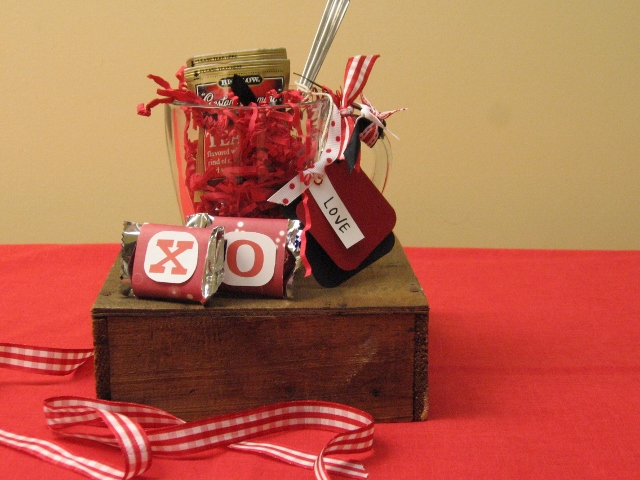 –The third project is one I'd like to keep for myself. 🙂 I filled a clear Dollar Store mug with red Dollar Store shreds, some tea bags wrapped in ribbon, added a spoon (2/$1), two X/O York patties, and decorated with some red, white and black ribbons. Chocolate and a steaming mug of tea–ahhhhh… (I am not mailing this one.)
Stay tuned for more creative Valentine's ideas from my mama soon!  (Can't wait to find out what she plans to give ME!)