The Dollar Store Diva is back with more super creative ways to spend less but give more this Valentine's Day!
***
I'm giving my grandsons a Valentine's paddle. (In case you misread that, I'm giving them each a paddle, not a paddling!)
I bought a Toy Story 3 and a Cars paddle ball set at the Dollar Store [Hence, DS.]. I covered the back of each with blue paper, but kept the front untouched.  Then I used DS primary color 3x 5″cards and printed out appropriate sayings.
On the Toy Story one, I printed on a yellow card: " Griffin, we'd go to infinity and beyond to ask you to be our Valentine!" (Credit goes to my husband for that one.) On the back of the Cars, I printed: "Lincoln, our hearts are racing to ask you to be our Valentine!" Then on green 3×5″ cards, I printed the addresses.
For their address, I first printed in red " To Our Valentine": then below wrote the name and address in black ink. For the return address (in the upper left-hand corner of the same card), I wrote in red "Love from:" and wrote our address in black ink. For a final touch, I used some colored bold-tip pens to highlight around the cards.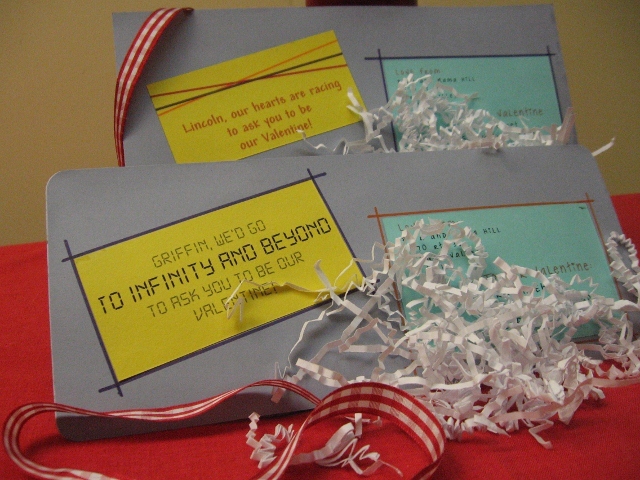 I decided to go to a different post office today to see if another one would be as accepting of my novelty packages as my local post office is. As soon as the woman behind the counter saw what I was mailing, she gave a big smile and thoroughly enjoyed helping me mail the paddles to my sweet little Valentines.  They cost $1.56 each to mail.
Note from Kaley:  My boys received these in the mailbox today.  I wish my Mom could have heard their squeals of delight!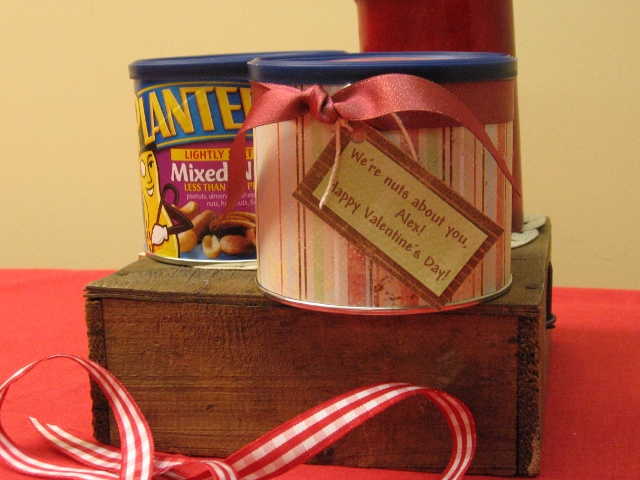 I got a good deal on Planter's Peanuts at CVS, so I knew I had just the right gift for my 17-year-old grandson. I wrapped the can in more "masculine" colors, added a bow, then attached a tag stating: "We're nuts about you, Alex! Happy Valentine's Day!"
Note from Kaley:  Maybe we should start calling my Mom The Drugstore Diva instead?!
***
Stay tuned for even more fantastic ideas to help you brighten someone's Valentine's Day!