Welcome to Cha-Ching on a Shoestring!   To stay in the loop on the best deals, freebies, coupons and more, subscribe to our FREE newsletter or subscribe to our RSS feed. You can even Like Cha-Ching on a Shoestring on Facebook to get up to the minute deals!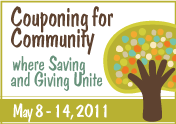 Couponing for Community is back!!  (Or what some might call 'Extreme Couponing for a Cause!)

If you've been reading this blog for very long, you may recall our first Couponing for Community event last year.  It was such a huge success with over 80 bloggers participating and thousands of items donated by YOU, that we decided it needed to become an annual event!
So what is Couponing for Community anyway?
Couponing for Community is an effort by couponers all over America to use the power of couponing to make a united impact.  We invite you to join this community of couponers by using your couponing skills to give to a homeless shelter, food pantry, or a friend in need during the week of May 8-14, 2011!  May 14 is also National Stamp Out Hunger day, so giving is as easy as leaving a bag of non-perishable items by your mailbox.
What is the goal?
This year we are setting a goal of 10,000 items donated in one week's time. We invite you to track your giving during the week  of May 8-14 and then share your story on our Facebook page. We'll even have a giving tracker to tally up everyone's efforts!!
What can you do now?
First, head on over and Like Couponing for Community on Facebook!   That will help keep you up to date on the details of the upcoming event and give you a place to connect with all of the other participating!
Second, as you shop over the next few weeks, begin to set aside items that you can donate during the week of May 8-14.  Note: Since we want to keep a tally of items given that week, make sure to keep track of the number of items that you give away.  You can even take a picture to upload on the Facebook page.
If you have a blog and would like to participate, simply write up a post about Couponing for Community and then submit the direct link to your post on the 'Join In' tab.
And, of course, stay tuned for all the latest details right here on Cha-Ching on a Shoestring!
I promise you.  You are NOT going to want to miss this event.  It's going to be a place where SAVING and GIVING unite like never before!