Welcome to Cha-Ching on a Shoestring!   To stay in the loop on the best deals, freebies, coupons and more, subscribe to our FREE newsletter or subscribe to our RSS feed. You can even Like Cha-Ching on a Shoestring on Facebook to get up to the minute deals!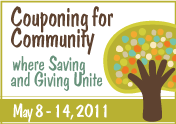 Couponing for Community begins TODAY!
This is our chance to 'flex our couponing muscles' together for good.  Here's what will be happening this week:
Nationally:
Over 100 bloggers have rallied together to invite our readers to GIVE this week.  We invite you to use the knowledge and tools that you have gained through couponing to give to a food pantry, rescue shelter, or friend in need this week, May 8-14.   Some of you have been couponing for a while and can simply gather a box of items from your stockpile to give away.  Others may only be able to give one or two items.  But we invite each of you to consider how you can join this effort!
Our goal this year is 10,000 items and we are already well on our way.
IMPORTANT: You can check out our 'See our Progress' tab on the Couponing for Community Facebook page to track our totals throughout the week.  Then be sure to count the items that you donate and add them to the total.  Every donation counts!
Don't forget that this Saturday is also National Stamp Out Hunger Day.  Giving can be as simple as leaving a bag of non-perishable food items by your mailbox on Saturday morning!
We'd love to see pictures of your donations on the Facebook page as well.  We are all about celebrating GIVING through couponing this week!
Locally (Greater Philly Area):
I am very excited to share an opportunity for my local readers (in the Greater Philly area) to come out and give.  Shannon from For the Mommas and I have teamed up to invite our readers to meet us at the Dunkin Donuts on Kugler Road in Limerick, PA (click here for directions) on Saturday, May 14 from 1-3 pm.   It will be an opportunity to make a united effort to give locally as well as a chance to meet face to face!
All of our donations will benefit the Community Nutrition Coalition.    Suggested donations include non-perishable food items or health and beauty/cleaning products.
(Oh…and stay tuned for FUN more details on raffles we will be offering to those who come out to give!)
We recognize that you may not have a lot to give.  But whether you have 1 or 100 items, just come out for a good time.  (Shannon and I promise we are fun!)
Thanks to Dunkin Donuts Philly for partnering with us this week.  You can follow them on Facebook or Twitter to stay up to date on the latest deals and promotions!
Whether you are local or far away, I promise you.  You are NOT going to want to miss this event.  It's going to be a place where SAVING and GIVING unite like never before!