Welcome to Cha-Ching on a Shoestring!   To stay in the loop on the best deals, freebies, coupons and more, subscribe to our FREE newsletter or subscribe to our RSS feed. You can even Like Cha-Ching on a Shoestring on Facebook to get up to the minute deals!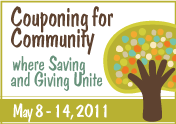 Day 3 of Couponing for Community is coming to an end and already over 7300 donations have been added to our totals.  How cool is that?!   I'm pretty sure we are going to blow our 10,000 item goal out of the water!
And by the way, we hope you are planning to stop by on Saturday any time between 1-3 pm at Dunkin Donuts in Limerick to take part in our local donation drive!

I have some exciting updates on the local donation drive that Shannon from For the Mommas and I are holding on Saturday at Dunkin Donuts on Kugler Rd. in Limerick, PA.  (Click here for directions.)
Dunkin Donuts will be offering a FREE $2 DD gift card for the first 50 people to come out and donate on Saturday.  (Hurray for FREE coffee! Or bagels!  Or donuts!)  Plus they will be giving FREE iced coffee samples to everyone who stops by to donate between 1-3 pm.  Who doesn't love FREE iced coffee?!
But wait–that's not all.  Shannon and I will be holding a raffle for those who donate.  Like Target?  Or Amazon?  Well then, I'm just sayin'–you might want to stop by.
Remember, it's not about how MUCH you have to give.  We want you there if you have 1 or 100 items.  We want this to be an opportunity to meet some of our awesome readers and celebrate the power of couponing together!  (Oh…and get some free coffee while we're at it!)