Welcome to Cha-Ching on a Shoestring!   To stay in the loop on the best deals, freebies, coupons and more, subscribe to our FREE newsletter or subscribe to our RSS feed. You can even Like Cha-Ching on a Shoestring on Facebook to get up to the minute deals!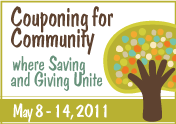 If you found us by watching our feature on 6abc Action News, welcome to Cha-Ching on a Shoestring!
We hope you'll stop by the Couponing for Community Facebook page to learn more about the thousands of couponers nationwide who have already donated over 11,000 items this week to tornado victims, local homeless shelters, food pantries and more.
We also want to invite you to to stop by Dunkin Donuts in Limerick on Saturday (5/14) any time between 1-3 pm at to take part in our local donation drive!  (Click here for directions.)
Dunkin Donuts will be offering a FREE $2 DD gift card for the first 50 people to come out and donate on Saturday.  Plus they will be giving FREE iced coffee samples to everyone who stops by to donate between 1-3 pm.  Who doesn't love FREE iced coffee?!
We will also be holding a raffle for those who donate.  If you like Target or Amazon, you might just want to stop by!
Shannon from For the Mommas and I are excited to meet those who come by.  Even if you aren't a couponer, check your pantry to see if you have any non-perishable food or health and beauty items that might benefit someone else.  Ideas include: pasta, peanut butter, jelly, canned fruits or vegetables, toothbrushes, toothpaste, deodorant…and the list goes on.
Your donations will help benefit Keystone Opportunity Center and the Community Nutrition Coalition.
Be sure to stop by Mama Cheaps and North Penn Under Ten to find out about giving in the Lansdale and North Wales area.
Not local?  Not a problem!  This Saturday is also the Stamp Out Hunger Food Drive.  Giving is as simple as leaving a bag of non-perishable food items by your mailbox!
Thanks for stopping by Cha-Ching on a Shoestring!  Feel free to contact me if you have any questions about how couponing can help you stretch your dollars further than you ever thought possible!