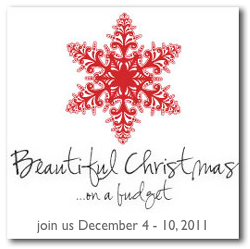 "And it was always said of him, that he knew how to keep Christmas well, if any man alive possessed the knowledge. May that be truly said of us, and all of us!"
~A Christmas Carol
I'm so  happy to share that this week I'm bringing back the Beautiful Christmas on a Budget series.  I've teamed up with five other bloggers to share tips on how to have a Beautiful Christmas without breaking the bank.  We are going to share practical, simple advice to help you enjoy this season to the fullest and save money at the same time.
To get us started, Karen at Saving the Family Money will be sharing some simple tips on how to make gorgeous Christmas decorations with recycled items.  Grab a cup of Hot Cocoa, set your Pandora station to something Christmas-y, sit back and enjoy her wonderful post.
Here are a few teasers for the rest of the week:
Monday: Shelly at Coupon Teacher will share some ideas for baking up some festive goodies.
Tuesday: Join me right here as I share my thoughts on celebrating the season with fun and meaningful traditions.
Wednesday: Kelly at Kansas City Mamas will inspire us with her tips to make holiday entertaining more fun.
Thursday: Sarah at Give Me Neither will share tips from her kitchen on how to create Delicious Holiday Dishes on a budget.
Friday: Meagan at Frugal Fun and Fortune will showcase some creative and thrifty homemade gift ideas.
Saturday: Head back on over here where I'll have a place for bloggers to link up their Christmas ideas.  This will be the place to be for everything Christmas.
Get ready to sit back and enjoy.  And have yourself a Beautiful Christmas!