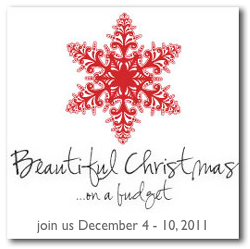 "And it was always said of him, that he knew how to keep Christmas well, if any man alive possessed the knowledge. May that be truly said of us, and all of us!"
~A Christmas Carol
I hope you have enjoyed our Beautiful Christmas on a Budget series this week.  I know I'm thankful for the new ideas that I've gleaned from my fellow friends and bloggers this week on everything from Holiday Entertaining to Handmade Gifts and more.
If you missed the series or would like a re-cap, be sure to check out all of our Beautiful Christmas posts here.
And now it's your turn!
Have you written a post about Christmas that you'd like to share?  We want to see it!  It can be about any aspect of Christmas–favorite recipes, decorating tips, family traditions and so on.  Just leave a link below that takes us right to your post.  If you don't have a blog, feel free to leave a comment in the comments section sharing your idea.
And of course, I leave you with a heartfelt "Merry Christmas!!"  May yours be a Beautiful One.