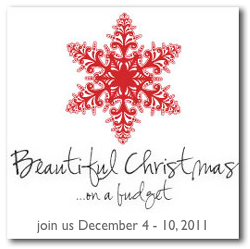 "And it was always said of him, that he knew how to keep Christmas well, if any man alive possessed the knowledge. May that be truly said of us, and all of us!"
~A Christmas Carol
It's Day 4 of the Beautiful Christmas on a Budget series and Kelly at Kansas City Mamas has a fantastic post with 25 tips for Stress FREE Entertaining here.  I think you will love her approach to holiday entertaining for Real People.
I totally want to go to a Holiday gathering at Kelly's house, don't you?
Here's what's going on the rest of the week:
Sunday: Karen at Saving the Family Money shared some simple tips on how to make gorgeous Christmas decorations with recycled items.
Monday: Shelly at Coupon Teacher gave us ideas for baking up some festive goodies.
Tuesday: I shared my thoughts on celebrating an imperfect Christmas with Simple Pleasures.
Thursday: Sarah at Give Me Neither will share about generosity on a budget.
Friday: Meagan at Frugal Fun and Fortune will showcase some creative and thrifty homemade gift ideas.
Saturday: Head back on over here where I'll have a place for bloggers to link up their Christmas ideas.  This will be the place to be for everything Christmas.