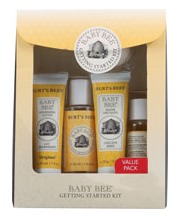 Right now you can get a FREE $10 credit to Vitacost.com when you sign up here.
There is a HOT sale on Burt's Bees kits right now.  When you use your $10 credit, you can get them as low as $5.20 shipped!
Here's how:
Sign up through my referral link
You will receive a special promo coupon code within a few minutes.
Add one of the following to your cart:
-Burt's Bees Head To Toe Kit — 6 Pieces for $5.20 shipped after credit.
-Burt's Bees Baby Bee® Getting Started Kit — 5 Pieces for $5.98 shipped after credit
Be sure to add your $10 credit at checkout to claim your discount!
Note: The item does state that it takes 6-14 days to ship, so there is a chance that it will not get here before Christmas.  But it's still a sweet deal and you can save it for a birthday gift for someone!
Thanks, Moms By Heart and Kansas City Mamas!

Keep in mind that you can get $10 referral credits when you invite your friends to join.  What a great way to score an even better deal!