You can read part one of this post here.
As I mentioned in the last post, we've made some changes to our Savings Goals for this year.
The second update that I want to share with you is something that has been brewing in me for quite some time.
I have loved saving up for some big things like a mini van and a cruise, but I've also felt for a long time that I wanted to save up for something even more meaningful.
You see, using our money to give is something that my husband and I place a high priority on.  We've been setting aside a certain percentage of our income to use toward giving to our church and to those in need for quite some time.  It is very rewarding to be able to give back when a need arises in our community or among family and friends –especially since we were blessed many times by others who did the same for us when our need was great.
We want to continue to to do that, but lately I've been thinking that wouldn't it be FUN to set a GIVING GOAL this year?
Something that likely wouldn't happen if we weren't intentional about saving toward our goal.
My husband and I have a special place in our heart for the work of World Vision.  We currently sponsor a child in Africa through their program and have raised money with our youth group for years as part of their 30 Hour Famine event.
I was leafing through their gift catalog the other day and spotted the opportunity to donate a well that will bring clean water to a community of up to 150 people.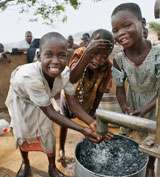 I thought, "That is what I want to do."
I mentioned the idea to my husband and he loved it.  It's kind of humbling to think that we could help provide something so basic to us as water, but so life-giving to others?
So there you have it.  Our new savings goal: Project Well. I'm not sure how long it will take for us to reach it, but I wanted to share it with you so you can join us on our journey!
So here our our current totals for our Saving on a Shoestring projects:
Project Well: 46%
Cha-Ching! Christmas Club: 10%.
*****
How about you? Have you been saving and scrimping toward a reward or are you a part of the Cha-Ching! Christmas Club?  Then leave a comment or a link below telling us about it.
AND just to add to all the fun going on around here, I will give a $5 Amazon gift code to one person who leaves a direct link to their savings post or a comment sharing an update on their savings.  (I figure it's just one more way to help you save on that shoestring!)
The giveaway will end Tuesday, March 13  at  11:59 pm EST. I'll randomly select the winning comment or link. Winner will be notified by email and listed on this site.