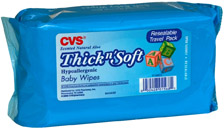 When you're at CVS, stop by the red coupon machine to scan your Extra Care Card. Many people are receiving $1.50/1 CVS Baby Wipes coupons!
Many stores have the CVS Thick n' Soft Scented Natural Aloe Baby Wipes (72 count) for $1.49, making them FREE after this coupon!
This is probably not a deal worth making a special trip for. You'll have to be lucky enough to have the wipes priced at $1.49 AND receive the awesome $1.50/1 coupon. It's worth checking out if you're already at CVS, though!
Even if you don't use baby wipes, grab this freebie as a great donation item!
Thanks, Maven of Savin'!