Welcome to the weekly Cha-Ching Challenge!
Did you find a HOT deal this week that you just want to share?  You've come to the right place!  Add a link to your post detailing your savings for the week OR your favorite deal of the week. I may even choose one participating blog to highlight next week right here on Cha-Ching on a Shoestring.
Check out my savings for the week below: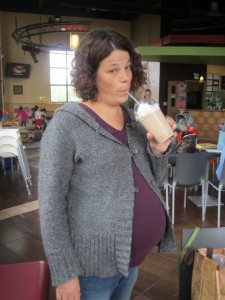 It's been quite a week around here.  I am due with baby boy any day now and my sister and her two daughters are here from Texas for the week to help (and to hopefully meet their new nephew/cousin before they leave!)
So in the midst of the hectic-joy-filled-craziness, any effort to track my saving and spending has gone out the window.  In fact, I actually think I paid full price for some cereal the other day (gasp!).
But you know what?  I'm Ok with it.  One of the reasons I work so hard to save the rest of the year is so that when times like this come up, I can allow myself to relax and focus on the moment rather than the current sales cycles that week.
Oh…and I can't say that I didn't save any money this week.  See that smoothie in the picture?  It was half-price.
Oh yeah.
——————————————–
HOW ABOUT YOU? Did you find any great deals? Leave a linky and let us know!  Be sure to link directly to your weekly savings or great deal post.