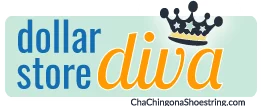 Here's another clever gift-in-the-mail idea from the Dollar Store Diva!  What little kid wouldn't love receiving this?

***
My postal clerk actually enjoys seeing me coming; she is fascinated by the objects I send in the mail.
When I first brought these goodies home from the Dollar Store, I wasn't quite sure what I was going to do with them:
a 6-pack of bottled water,
a bag of Twizzlers [who doesn't love Twizzlers],
and some lemonade singles powder packets.
I only knew that I wanted to slap some stamps on the bottles and send a bit of sunshine via the USPS.
And then I thought of my sweet grandchildren in far-off Kansas–three of their birthdays are in June! They are always happy with their usual birthday card with Grandpa and Grandma's usual cash gift, but this year I wanted them to also get something fun in the mail.
Kayla's birthday came first; in her emptied and thoroughly dried water bottle I put an assortment of the drink packets and some plastic straws surrounded by celebrative pink grass. Audrie's bottle was filled with bright red Twizzlers; Brandon's had Twizzlers and several fruit-flavored freezer pops–not yet frozen, of course 🙂
I wrapped colored paper around the label on the bottles, added their address, and at the time of each birthday, headed off to the post office.
Three times my friendly postmaster smiled, applied the stamps, and sent the little gifts across the miles.