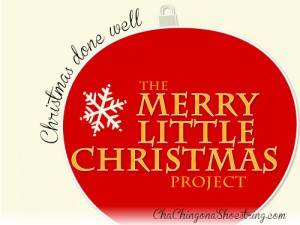 According to my Christmas countdown app, we have 63 days until Christmas as I write this – 9 weeks until Christmas Eve!
In days past, I have been the one to resist anything Christmas-y until much much later in the year.  After all, don't we need to celebrate Thanksgiving first?
But what if by beginning our Christmas prep earlier and taking it one chunk at a time, it would FREE us up to truly soak up the holidays?
Well then…I'm all in!
SO that's why I have been working behind the scenes on what I like to call my 20 Minute Missions Daily Calendar (through November).
The plan?  To set aside 20 minutes a day (M-F) to complete one Christmas-related mission
The goal? To complete as MUCH as possible (including shopping!) before December 1st, so that we can truly enjoy the holiday season
I'd LOVE for you to join me.  You can check out my Daily Mission calendar here.  Feel free to use mine or create your own.
If you prefer to tackle your goals weekly instead of daily, here is a list of what my weekly goals look like:
Week 1: Planner chosen and ready to go; Budget in place.
Week 2: Photos ready to make gifts/ Plan for making gifts in place/Begin asking for gift lists.
Week 3: Christmas shopping 1/4 done. Calendar ready; donations plan in place.
Week 4: Christmas cards ordered; Menu and grocery list planned, Christmas shopping 1/2 done.
Week 5: Address labels ordered, stamps purchased, Christmas shopping 3/4 done.
Week 6: Toys donated/Christmas shopping done!
Week 7: Christmas present wrapped; Christmas cards finished and sent; Two batches of cookies frozen.
Week 8-10: Stay tuned!
I'll be posting about my progress daily on The Merry Little Christmas Facebook page and inviting you to do the same.
Are you in? 
  See more posts from The Merry Little Christmas Project here.