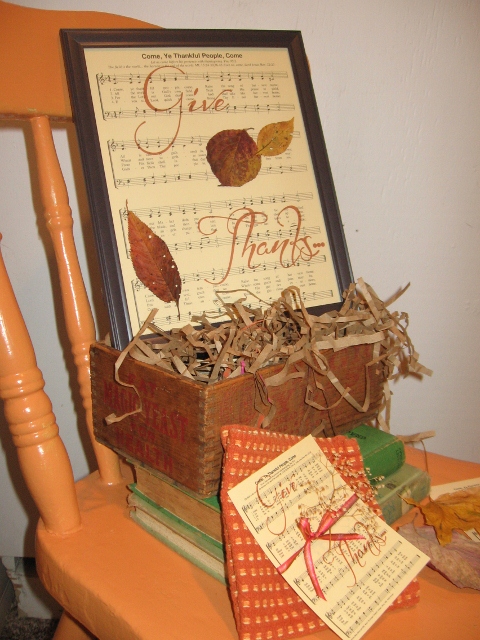 Here's another simple yet beautiful autumn idea from the Dollar Store Diva using Free Fall printables.   I LOVE it.
Printable Thanksgiving Hymn
I think that this framed Thanksgiving hymn is one of the favorite things I have ever created. I have it on display in my family room, and every time I walk past it I think, "I love that picture!"
And it was ever so easy to make.
First, I printed on tan cardstock a copy of "Come Ye Thankful People, Come" that I found here.

Then I ran that printed copy through the printer  and printed Give Thanks over the hymn using this printable I created.  A word of caution here: when you print Give Thanks over the hymn, be sure that you have slipped the paper into the printer tray properly. It's very disappointing to wait with anticipation as the printer is whirring, only to have the text printed upside down!
Next, I stepped outside my front door, gathered some autumn leaves, and then arranged them on the printed document.
Finally—the exciting part!–I slipped this all under the glass of a dark brown frame from the Dollar Store and proudly put it on display.
What a lovely reminder of the reason for this autumn celebration.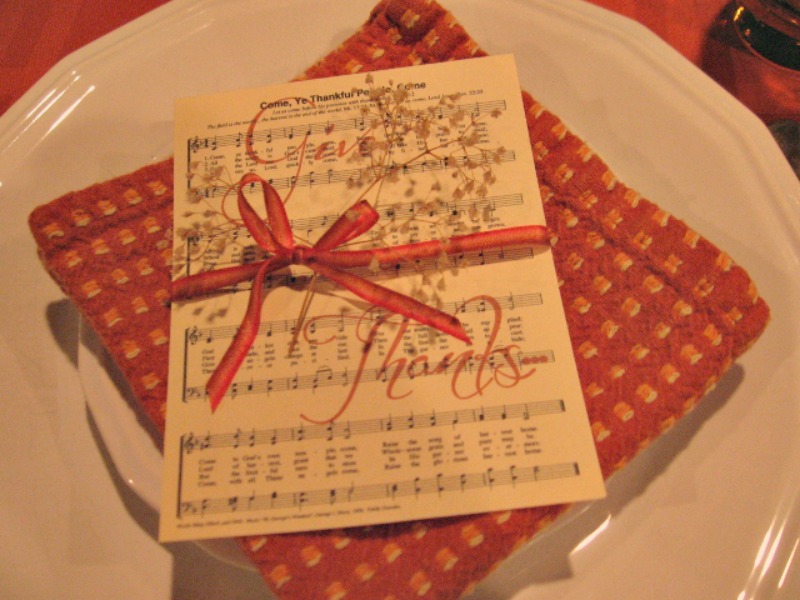 The framed print made me so happy that I decided to have some more fun.
I printed four copies of the hymn per page on tan cardstock.
 Then, as with the framed picture, I ran the hymn through the printer and printed Give Thanks over the hymn.
I used my trimmer to cut out the four prints and wrapped each card with a slender orange ribbon, slipped in a sprig of baby's breath and—Oh!–a lovely place card for my Thanksgiving table.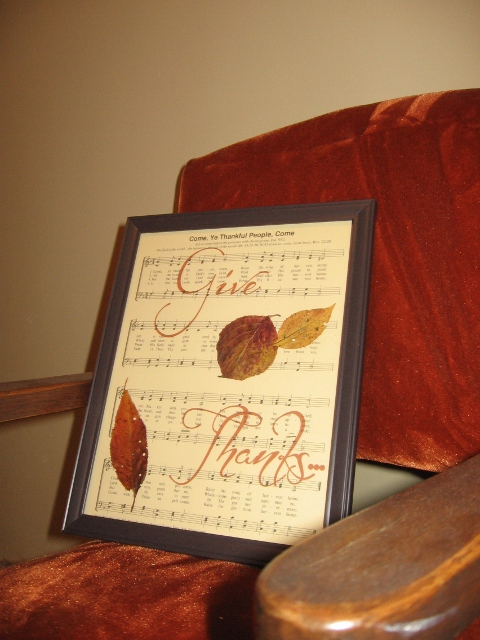 I plan to have this as part of our family celebration. We will start off the meal by singing this hymn placed on each person's plate. I love the thought of my family, as one voice, raising this ancient hymn of praise to God.
If you aren't familiar with this song, you could print any number of other songs (How about "Over the River and Through the Woods"?), quotes, poems, or verses about autumn or gratitude.
By the way, don't you like my pretty napkin? It's a Dollar Store dish cloth. Yup—a Dollar Store dish cloth. They come two or three to a package. I keep my eye out for them, and I actually have them in appropriate colors for each season. I just throw them in the washing machine along with the rest of my laundry, and they are fresh and ready for the next festive meal.
***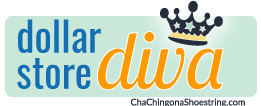 For those of you who haven't met her, the Dollar Store Diva happens to be my Mom who has a special power.  She can transform Dollar Store and other inexpensive finds into super fun gifts and crafts that would brighten anyone's day!
Check out more awesome Dollar Store Diva ideas here!
Want help simplifying your holiday season? I wrote my book with YOU in mind…