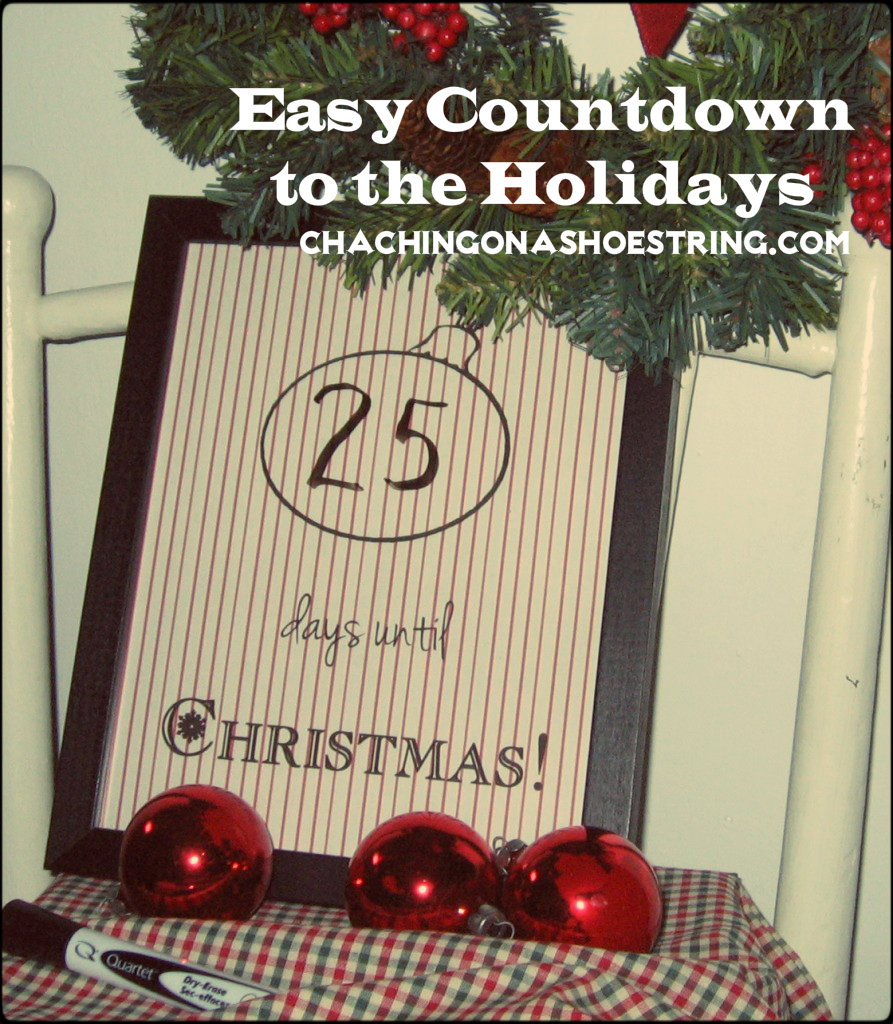 Want to
Do Christmas Well
with me? 
LIKE The Merry Little Christmas Project
on Facebook and be a part of our community! We are working together to make Christmas simpler, organized and more meaningful. Come join us!
I'm so excited about this upcoming holiday series from the Dollar Store Diva!  I love these Countdown to Thanksgiving and Christmas printables she's put together for us. 
***

My husband always cautioned our children not to brush past the thanks-giving of Thanksgiving in a frenzied rush to get to the gift- receiving of Christmas.
He is a wise man.
Perhaps this printable I have created will help assure that my family will follow his sound encouragement.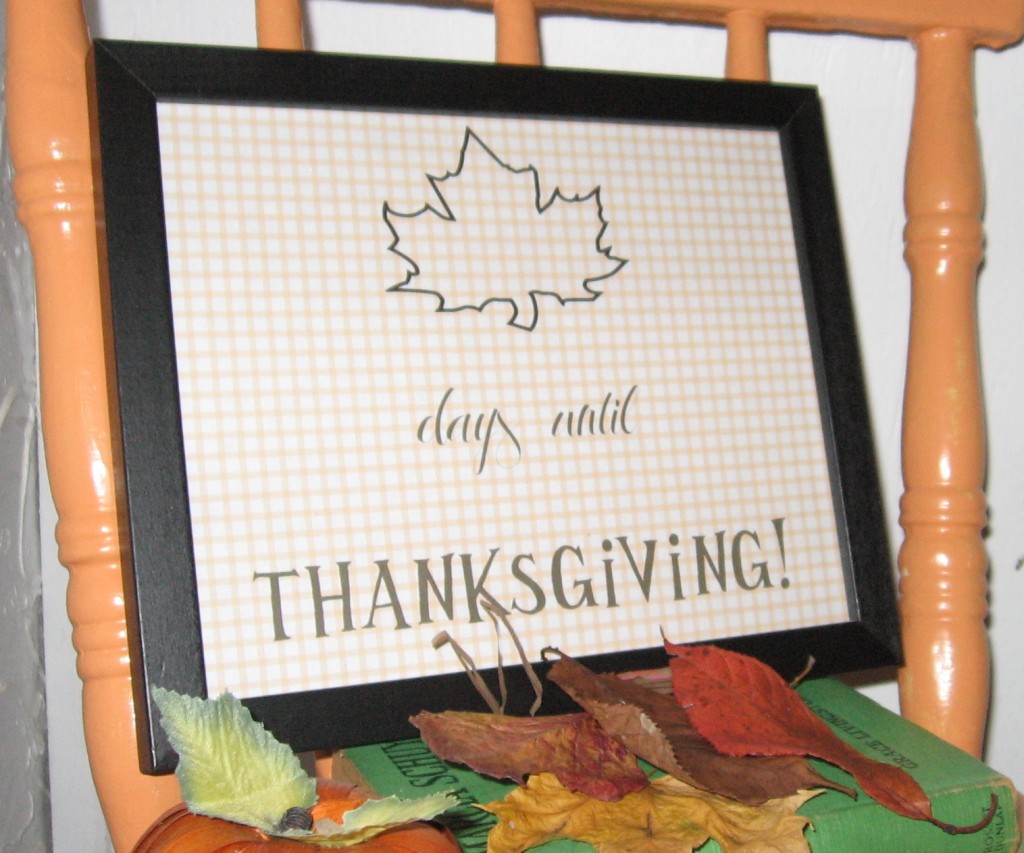 Over the years I have used a variety of ways for my children to count down the snowy days of December until the magical number 1 finally arrived. This year [inspired by something I found here], I decided to create a Thanksgiving countdown too.
If you would like to join me, this is what you will need:
One 8 x10″ frame. Mine is a black Dollar Store frame.
Two sheets of white cardstock or white copy paper.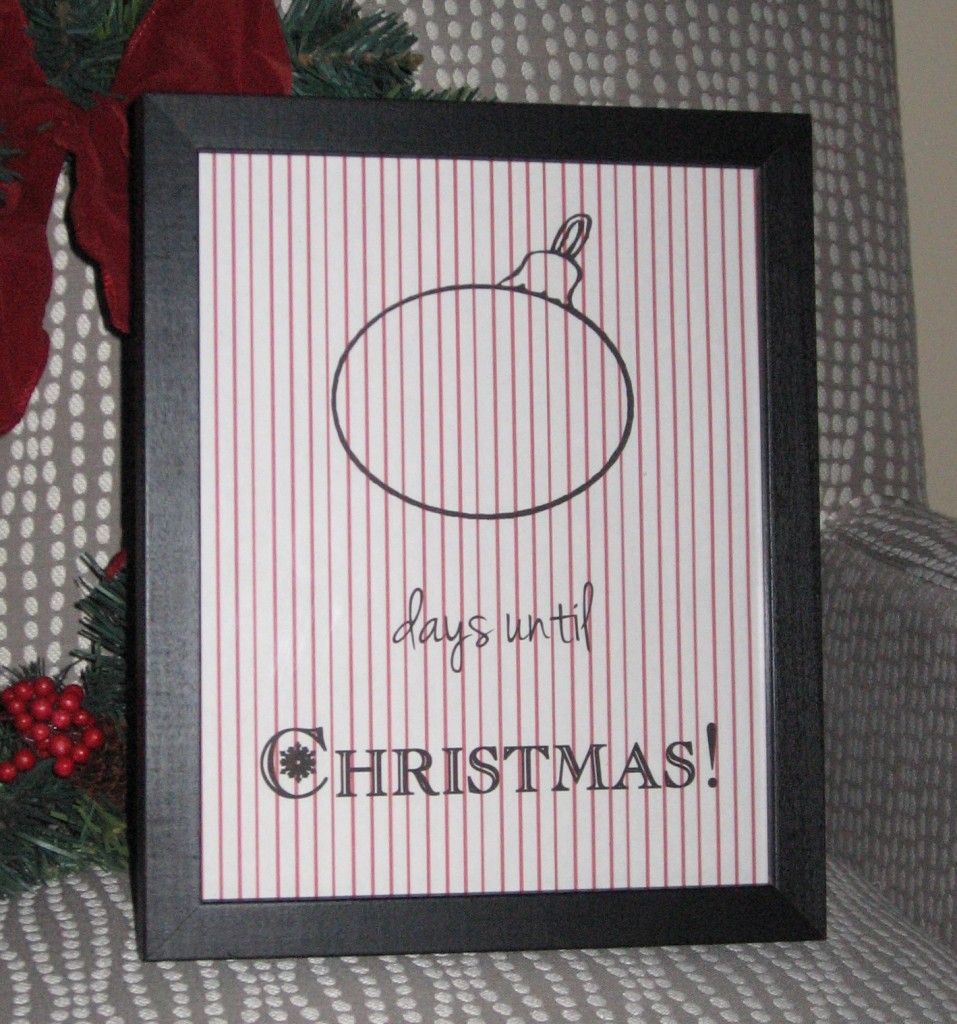 If you choose, you will be making two print-outs: one for Thanksgiving and one for Christmas. And it's as easy as 1-2-3.
For Thanksgiving:
1) Print page three of this file (orange checked background) on a sheet of white cardstock or white copy paper.  You may want to adjust your margins to the narrowest width.
2) Run that printed paper through the printer and print this Days Until Thanksgiving image over it.
3) Trim the finished copy to fit into the 8×10″ frame.
For Christmas:
1) Print page one of this Days until Christmas file (the candy cane striped paper).
2) Run that printed paper through the printer and print page two over the striped background.
3) Trim the finished copy to fit into the 8×10″ frame.
You can store the extra printable in the frame behind the current holiday countdown, so it will be safe and accessible when it's time for the other holiday celebration.
The really fun part of this is that a dry erase marker works wonderfully on the glass of the frame. So each day your children can use a tissue to erase the number of the day before, and replace it with a lower number!
I am making copies of these to send to my grandchildren in Kansas, Texas, and Pennsylvania. It makes me happy just imagining them counting down the days–10-9-8-7-6-5-4-3-2-1–with their dry erase marker!
Christmas Background Paper Credit
Orange Checked Background Paper Credit
Check out more Dollar Store Diva ideas here!
***
For those of you who haven't met her, the Dollar Store Diva happens to be my Mom who has a special power.  She can transform Dollar Store and other inexpensive finds into super fun gifts that would brighten anyone's day!
Want to transform your Christmas from STRESS to LESS with us? My eBook The Merry Little Christmas Project – Five Words that will Transform your Christmas will help you do that. It comes with a lovely Christmas planner so that you can start simplifying and organizing your Christmas today. Click below to buy now: